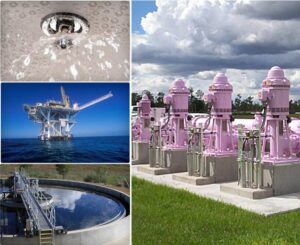 From submersible solids to self-grinding pumps, Nico Pumps has been selling, servicing and repairing Pentair Pumps for decades. We currently specialize in the Aurora, Berkeley, Verti-Line and Hydromatic brands under the Pentair umbrella. If you are looking for a new Pentair Pump, please contact us.
About Pentair Pumps
Pentair is the global leader in Energy, Food and Beverage, Industrial, Infrastructure, and Residential and Commercial pump production. Pentair has a number of product lines available to meet all of these industries' needs. Focusing on water, fluid, thermal management and equipment protection, they have remained a leading partner with top industry products, services and solutions.
History of Pentair Pumps
Pentair was founded in 1966 and in 1968 purchased the Peavey Paper Mills. In the 1970's, the management company began to diversify into other industrial products beyond producing paper. Through mergers and acquisitions, Pentair has partnered with some of the largest and oldest industries in the world, with historical roots dating back to 1858.
Many of Pentair's product lines have been integral to the industrialization of countries and regions in regards to establishing power plants and water pipelines. Pentair continues to be a company steeped in innovation and dedicated to excellence and now boasts 30,000 employees across the world.
Pentair Pumps in Utah
We sell the following product lines of Pentair Pumps:
Aurora – Aurora by Pentair is a leading pump manufacturer specializing in commercial, fire protection, industrial, marine/oil/gas, and municipal water treatment.
Berkeley – Berkeley Pump manufactures a wide variety of centrifugal pump equipment. These pump products include end suction pumps, line shaft and submersible well pumps, self-priming, PTO pumps and engine driven pumps.
Layne/Verti-Line – A sub-brand of Aurora and Pentair, Layne-Verti-Line creates vertical turbine pumps for the industrial process, agriculture, utility, petroleum, petro-chemical, municipal water supply and water treatment markets.
Hydromatic – Hydromatic by Pentair is the manufacturer of residential sewage, sump and effluent pumps, as well as submersible solids handling pumps, primers, and grinder  pumps for commercial and industrial markets.
Repair
Our in-house pump shop has been established since 1924. We have been servicing and maintaining Pentair Pumps in Utah for decades. We also work on any brand of pump and we are confident that we can service any pump or resolve any pump issue that you may have. Our staff has decades of combined knowledgeable and are always happy to answer a question. We can even do field repairs.
If you have a Pentair pump that is in need of repair, here's how our process generally works. Please call us at 800-584-6973 from 7:30 am- 4:30 pm Mountain Standard Time or feel free to fill out the form on our website.