The Utah Lake pumping station takes water from Utah Lake to supplement the Jordan River and is used in a number of canal systems that provide secondary water to many farms and residents of the Salt Lake valley. Water not used in these canal systems ultimately ends up in the Great Salt Lake.
Pump Station Complete Fall 2013
After more than 10 years in the design process, the Utah Lake Pumping Station Replacement Project finally became a reality with the startup of the new pumps in the fall of 2013. New Cascade Pumps were designed to replace a combination of Byron Jackson horizontal Wood Screw pumps and vertical 62" HSPR axial flow pumps. There were a number of pumps considered, including Archimedes screw pump, submersible pumps, and ultimately used, vertical axial flow pumps. The pump design incorporates siphon recovery in the discharge head of the pumps.
The final design for the pumping units was by Bowen, Collins, and Associates with the assistance of design engineers at Cascade Pump Company. Physical modeling for the pump station was completed at Utah State University in Logan, Utah using the Cascade 54AF vertical propeller pump design that was the pump model ultimately furnished.
Nickerson Company and Utah Lake
Nickerson Company, Inc. was fortunate to be a part of the project when the original Byron Jackson 62" HSPR vertical axial flow pumps were furnished in 1957 and have provided repair services for these pumps over the years. It was even more exciting to be a part of the design process and to furnish the new pumps for the beautiful new state of the art pump station.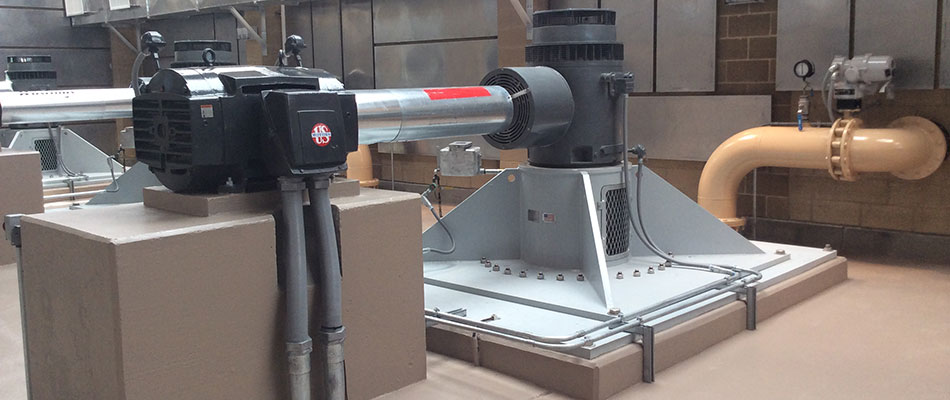 Rated Pump Conditions
90,000 GPM (200 CFS) at 10.0 feet total dynamic head
Scope of Supply of the Utah Lake Pump Station
Pump: (4) Each Cascade Pump Company Model 54AF axial flow, 1 stage, 60" diameter below baseplate flanged discharge, oil lubrication, 352 RPM, 25′-0" from baseplate to bottom of suction bell.
Motor: (4) Each Nidec U.S. Motors 350HP 1,800 RPM, 3/60/460 Volt Horizontal Motors, Premium Efficient, Inverter Duty
Right Angle Gear Drive: (4) DeRan Model M26A, 5:1 ratio, solid shaft, fan cooled.
Flexible Drive Shaft: (4) 40" long shaft assembly with motor and RAG companion flanges with shaft guards.