Understanding Power Phase
Understanding power phase is integral in the process of choosing the pump configuration that is right for you.
Unlike direct current (dc) power, which provides constant levels of voltage, alternating current (ac) power follows a waveform alternating between positive and negative voltage. Because ac power is easy to produce and transmit, it is the power of choice to transmit to homes, commercial buildings, and industrial facilities.
When talking about alternating current, phase is used to describe an instantaneous point on a waveform cycle. When all of the instantaneous points are taken together over a completed cycle, the result is referred to as 360° of phase or more generally a phase. It is standard to have the reference be the phase that passes through the origin. This standardization gives the phase the form of a sine wave and creates nodes, or points of 0 current, at 0°, 180° (π), and 360° (2π). As the wave passes from crest to trough the amount of current provided matches proportionally.
The most common power phases are single- and three-phase. When dealing with multiple phases, the offset in time or degrees between the same reference points on two waves traveling at the same frequency is called the phase difference. Phase difference can tell use the amount of time or distance between maximum current draw. Consequentially, the waves behind the reference phase are called the lagging phase, and the wave before the reference is called the leading phase. Refer to Figure 1 for a representation of each of these terms on a standard three-phase waveform.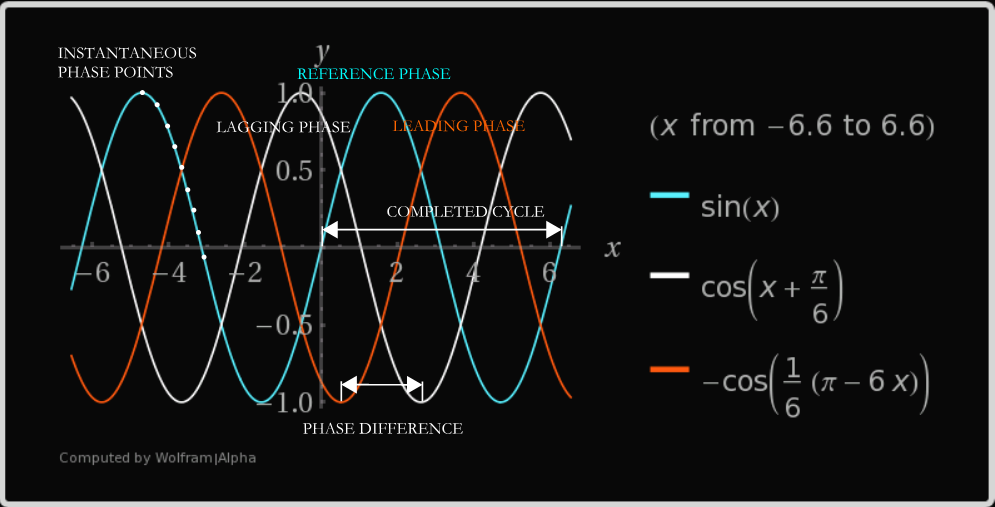 Single Phase Power
Single-phase power is commonly found in residences and commercial buildings and is primarily used for powering small appliances under 1000 watts. This configuration may either be a simple 120V or a split phase configuration with 120/240V. Single phase is either a two or three wire ac circuit. In older wiring designs there is one power line and one neutral line. New designs add an earth to ground connection to improve safety.
Although single-phase power is available almost everywhere, it is not recommended for use on motors greater than 5HP. When comparing two motors with the same horsepower rating, the single-phase motor will draw significantly more current than the three-phase motor. Because of the larger current draw, larger and therefore more expensive windings are required. In addition to being physically larger, single-phase motors are generally less efficient and require a starting capacitor which adds more to the cost. For these reasons, we recommend that three-phase motors be used when available. See Figure 2 below for more specific waveform configuration and power phase information.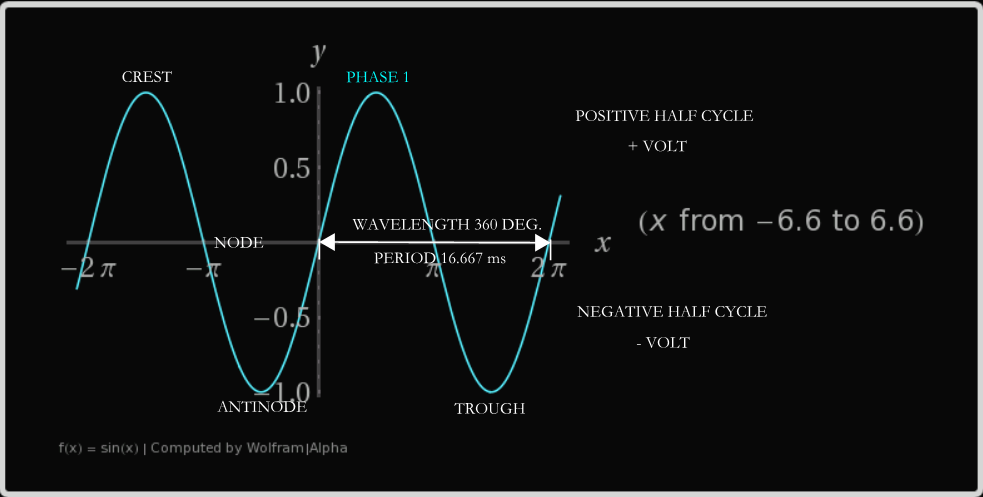 Single phase 120V motor rotation cannot be changed without much difficulty after the motor has been manufactured. It is absolutely necessary to make sure that the rotation of the motor matches the desired rotation of the pump impeller.
Three Phase Power
Three-phase power is usually found in commercial and industrial facilities where large equipment is operated. Three-phase is usually distributed in the Wye configuration with five wires. Three of the wires carry current; the fourth wire is a neutral, and the fifth wire is an earth-ground wire. In the less-common Delta configuration there is no neutral wire. Although other configurations exist we will not discuss them in this introduction.
Three-phase power, where available, will provide smooth, more balanced, and frequently less expensive motors and motor operation. This is due to the fact that three-phase power has three identical overlapping waves. The wave cycles are evenly spaced 120° apart so the supplied power remains relatively constant when compared with single-phase power. When phase one is at a node, the next phase is only 30° and approximately 5.5 seconds from reaching its crest, and so on for each passing phase.
When compared to a single-phase power supply that uses the most common configuration (phase and neutral), a three-phase supply with no neutral, and the same phase-to-ground voltage and current capacity per phase can transmit three times as much power using just 1.5 times as many wires. Because of this, the ratio of capacity to conductor material is doubled making it possible to use smaller, less expensive wiring. See Figure 3 below for more specific waveform configuration and power phase information.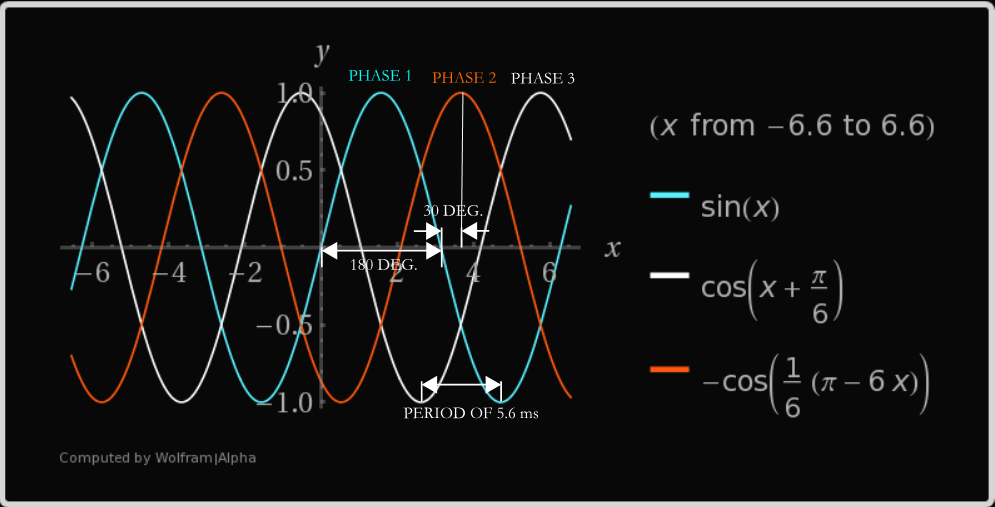 Understanding alternate phase and wiring configurations is key to finding the best configuration for your application. Available power phase can have a major impact on your choice of motor and pump design. Understanding these basic principles will help you to understand motor efficiencies, start-up operations, and operation/maintenance costs. Please let us know if you have any questions about the ideal configuration for you.
To learn more, check out our post on Pump Power Frequency and Alternating Current (AC).