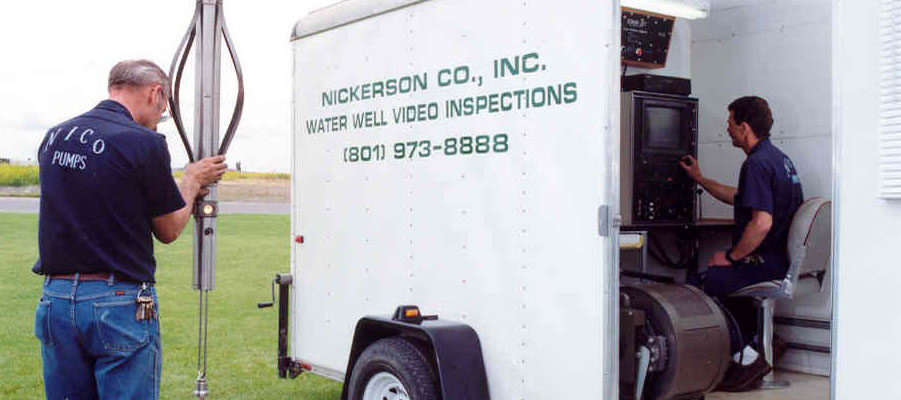 Water well performance and efficiency nearly always diminishes over time. One of the most effective tools available to determine actual down hole water well conditions is a full color video inspection system. Water well videos allow owners and service personnel the opportunity to inspect the well casing inch by inch and determine the amount of accumulated debris and built up on the casing ID surfaces, as well as look for problems in the well such as holes in the casing and pugged well screens or perforations. Well videos also allow for an accurate means of sounding the well to determine the level of fill materials above the true bottom of the well casing.
The information derived from a video inspection is critical to completing a record of current down hole well conditions, as well as determining any possible need for well rehabilitation procedures. Videos are also very useful after the fact to verify the success of well rehabilitation procedures. We strongly recommend that a well video be completed every time a pump is pulled from a well.
Our Well Inspection Equipment
Nickerson Company is a well service company that maintains a trailer mounted Laval DC5150 full color water well inspection camera. This 2.36" diameter color camera contains both a down hole view camera, as well as a side view camera. The side view camera is capable of 360 degrees of rotation. The camera is rated to 2,500 PSI and is suitable for use in well casing ID's from 3" to 24", and temperatures from 0 – 65 degrees C. Our camera winch system contains over 2,000' of cable, sufficient for nearly all water well in our region.
All well videos are recorded on to DVD's for future reviewing and a permanent record of well condition. Our well video system is self-contained, including its own on board electrical generator allowing use at remote well sites.